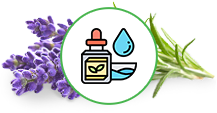 Steam Distilled Therapeutic
Grade Essential Oils
Our Guarantee
Our products come with a
100% satisfaction guarantee.
No questions asked.
Not satisfied? Return the unused portion within 90 days and you'll get all your money back minus shipping and handling.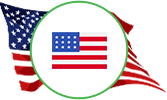 Proundly Made in the USA since 2007
Our Product
All Natural, Non Toxic & It Works
No More Ticks®" is an all natural tick, flea and mosquito repellent which is composed of a blend of
steam distilled, therapeutic grade essential oils, distilled water and pure vegetable glycerin.
"No More Ticks®" is proudly made in the USA in artisan batches.

Our Tick, Flea, and Mosquito Formula for Pets and their Humans,
$25.00
Add to cart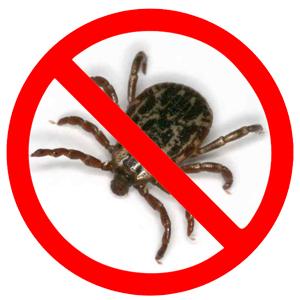 Our Tick, Flea, and Mosquito Formula for Pets and their Humans,
$25.00
Add to cart

Our Customer reviews
Your bug spray is amazing.  It doesn't stain our clothes and it smells great!  We camp a lot and I am afraid of spiders.  I would spray the outside of our tent a couple of times a day even lol. My coworkers love it as well.
Maria P From Boiceville, NY
Thanks, Kathy!  I have recommended your spray to many friends who have all been happy with their purchases!!
- Elizabeth from Herndon, Virginia
We use No More Ticks on our dog each day before each of her three walks. We have had no more sightings of ticks crawling on her since we started using the product about a year ago.Thanks for a great product that's easy to use and actually works.
- Bob and Rosanne from Bordentown, NJ
I use it for my horse, Feather, who is all white with a feathery tail. I trail ride in No Virginia (tick infested fields) when I use No More Ticks before I trail ride, even the Feather comes back with no more ticks!
- Debby S, Chantilly, VA
It works great on black flies BTW!
Patty Hutchins Adirondacks, NY
Pet Store Universe
1022 Blakeslee Blvd Dr E, Lehighton, PA 18235
Green Leaf Pet Resort & Hotel
Millstone, NJ 08510
Hamburg Veterinary Clinic, Inc.
59 Vernon Ave (Rt 94), Hamburg, NJ 07419
About Us
Effective, Safe, and Non-Toxic
This is our Dee Dee & Ruffy. This photo was taken on their 9th birthday. They were born on 9/4/07. Ruffy went over the "Rainbow Bridge" in July 2021, just before his 14th birthday & Dee Dee followed him just after their 14th birthday. We miss them terribly!!! No More Ticks was created for them!
No More Ticks is a very effective, safe, non-toxic tick, flea and mosquito repellent. It also works well on horse flies and other bugs as well. No More Ticks is composed of a blend of three different steam distilled, therapeutic grade essential oils (citronella, cedarwood and geranium) distilled water and pure vegetable glycerin. We've recently developed a new and improved formula that can be used for your pets as well as yourself. It has replaced our original and our stronger formulas. Now you can use one simple formula with one label for both pets &/or people.
MOST PEOPLE DO NOT READ THE INGREDIENTS ON THE BOX OF THE FLEA & TICK CONTROL THAT THEIR VETERINARIAN SUGGESTS THEM TO USE TO PROTECT THEIR PET. BELOW ARE THE INGREDIENTS THAT COULD BE IN THE PRODUCT THAT YOU ARE USING. ALSO LISTED BELOW ARE THE SIDE EFFECTS THAT COULD HAPPEN TO YOUR DOG OR CAT AFTER THE APPLICATION.
Common ingredients, in these products, include imidacloprid and permethrin to repel and kill fleas, ticks, and mosquitoes. Both ingredients work on contact, attacking parasite nerve cells at different sites. Together these ingredients overwhelm the nervous system killing the parasite. Pyriproxyfen is an insect growth regulator, which destroys the fleas but has no effect on ticks.
Burning, itching, numbness, rash, redness, stinging, swelling, or tingling of the scalp are a few of the side effects that your pet could experience after using imidacloprid and permethrin. Other side effects not listed may also occur in some patients, taken from the Mayo Clinic report. https://www.mayoclinic.org/drugs-supplements/permethrin-topical-route/side-effects/drg-2006544
OH MY GOSH THESE TOXINS ARE FLOWING THROUGH YOUR PETS BLOOD! WHO CARES IF THEY KILL THE INSECT, THE INSECT HAS ALREADY BITTEN YOUR PET AND HE OR SHE CAN POSSIBLY GET LYME DISEASE.
Read More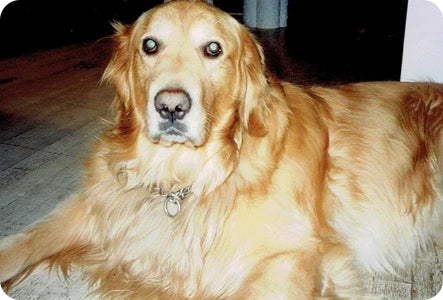 This is our Beau, a golden retriever. He inspired us to create No More Ticks. Beau sadly died at 7 ½ of liver cancer.
How It All Got Started
After losing Beau & Coco (pictured below), we didn't want to put anything toxic on our two new pups, Dee Dee and Ruffy. But because we live in the woods in Goshen, NY, we were forced to use one of the toxins on them. After seeing Dee Dee & Ruffy come in with ticks on them every time we let them out, it was very frustrating. Ruffy was diagnosed with a positive Lyme test. I had to get to work to find them something that was not toxic to control the ticks. I am a holistic, alternative person, I tried a number of different formulas. It took 6 months to a year before they started coming in with no more ticks. I made the same formula for them for five years before I started selling it. I wanted everyone else to have this great repellent for themselves and their pets so I started selling it at farmers' markets, then I got it into pet stores, health food stores, gardening nurseries and online. I then tweaked the original formula to make it a little stronger and began to sell the stronger formula along with the original formula. Recently I've tweaked it a bit more and developed a very effective, safe formula that can be used whether you are in heavily infested tick areas or in the city where you don't find many. There's no more decisions to make...."should I get the original or the stronger formula?" Now we just have one NEW & IMPROVED FORMULA that works!!!!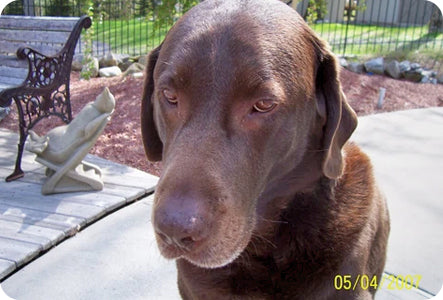 This is our Coco, our first chocolate lab. He also inspired us to create No More Ticks. Coco sadly died at 7 of bone cancer.